Late december, Philip Wolk, the headcoach of our top division ladies team, announced that he is ready to take the next step in his career after 4 years of service, and has decided to move on to another club next season.
Philip also served as coordinator for the Limburg Lizards project, which is a collaboration project between several local clubs and has the ambition to provide top level basketball education for girls, which is often not realizable by each individual club due to the fact that less girls play basketball then boys do.
We wish Philip a lot of joy on his next adventure. But... Now what?
Our board members, responsible for the women and girls divisions, are frantically searching for replacements...
Meanwhile... the success of the 'Limburg Lizards' project has not gone unnoticed, and the boys side of the organization has been working to set up a similar project, baptised the Limburg Talent Factory.
Pascal Angillis, a professional coach and coordinator, has been assigned to work with the involved coaches and players in the participating clubs to set up appropriate teams for future seasons.
Now there are some spicy details related to this collaboration though...
If you followed the local basketball scene for a while, you will know that Pascal is also involved in 'Femina Habac', a project very similar to and thus competing with, the 'Limburg Lizards'.
On top of that, next to the clubs that are already committed to the 'Limburg Talent Factory', we have another collaboration ongoing for our under 14 A team, with yet another club that is (not yet) comitted to the project... which is of course potentially conflicting with the intents of the 'Limburg Talent Factory'.
In the midst of all this change, some of our board members have indicated that their current role no longer aligns very well with the agenda of their children, causing a lot of friction. They said that they might follow the situation of their children...
For all we know, this means these board members could change division, stop their involvement, or even move to another club next season.
Is this volatility normal?
One would think that the current situation is pretty extreme, but it really isn't.
People come and go, usually following their children or ambitions.
Partnerships come and go as the needs of clubs change.
Over the years most of these collaborations have been organized on a team by team basis. It's only recently that we see an evolution towards more structural cross club coordination projects (such as Limburg Lizards, Limburg Talent Factory, Kortrijk Spurs or Basket@Sea).
Even individual coaches very often coach teams at multiple clubs at the same time. One of our coaches even ended up in the strange situation where both of his teams had to compete each other in a cup game... or is that called a win-win situation?
The challenge
From an information governance perspective, this reality of high mobility and cross club coordination is a challenge to the board, and mainly the secretary, of a club. Especially in the light of European data privacy rules. A challenge not yet solved by most of the software systems for managing our clubs out there.
The following diagram shows our current information governance structure, with small black dots representing teams and the black boxes the information governance scopes resulting of the internal division structures or coordination projects that cross organizations.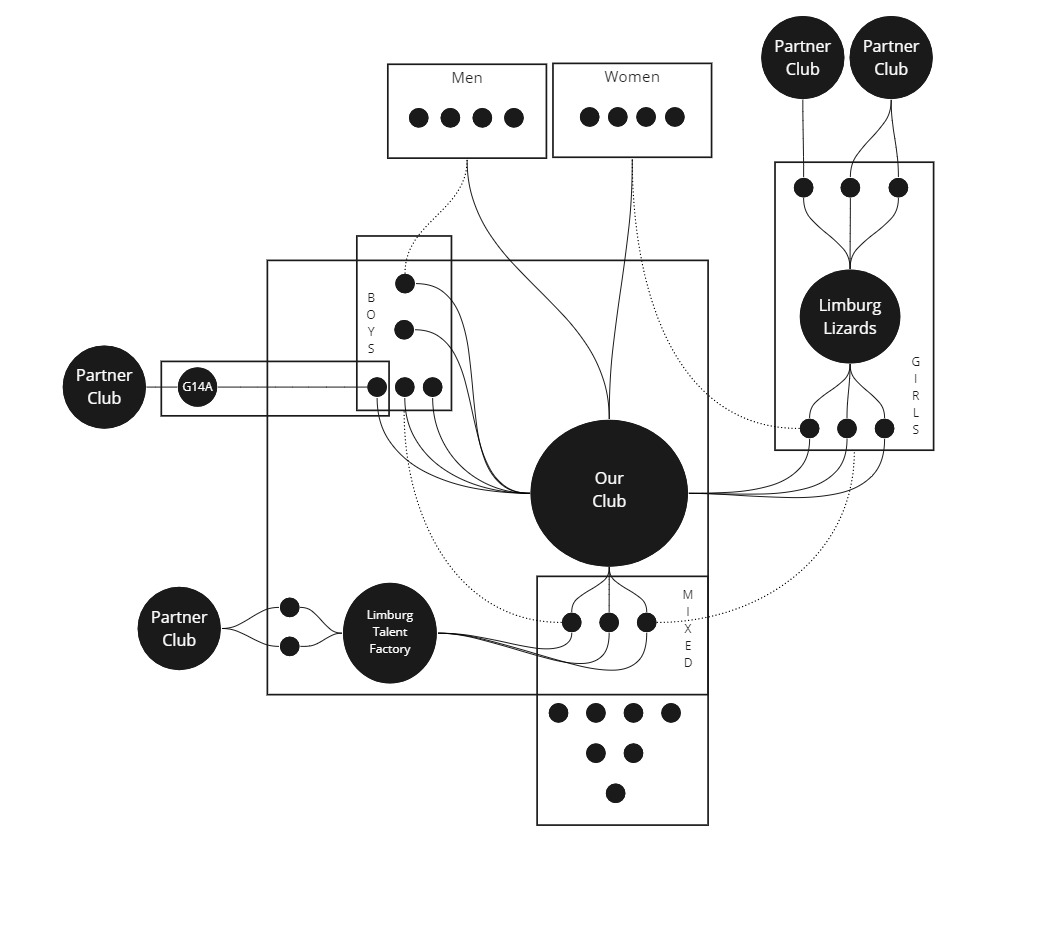 Within this structure different roles require access to the personal information of many club members for communication purposes.
Coaches require information about the players, and their parents, in their teams. Regardless of the club where they, or their team, happen to be registered at.
Coordinators, potentially working across multiple clubs, require information about the coaches, players, and their parents, involved in the respective age groups that he or she has been assigned to coordinate.
The secretary of a club needs to be able to keep an overview of every club member, but also to what information has been shared to whom in order to avoid conflicts of interest when people work in different clubs now, or in the future.
Individual players, and their family, have the right to know whom their information is shared with.
But of course, everyone only needs to get access to the information they need and nothing more.
This information governance challenge is the main problem we're set out to solve here at clubmanagement, by providing a decentralized information management system for coaches, coordinators, organizations and of course to our individual members.
For each of these roles we have created an app that you can use to access the information needed to perform your job.